Stephanie Stringer - vocals

Session singer and classically trained pianist, Worked as a session singer on various commercial projects including work with Bill Legend of T.Rex and Miles Kingston - Barney Bates. Written and sung on various jingles - musical stings for commercial radio. Worked as a singer/pianist in Sweden where she still has a following. Currently working with well-respected musicians in the area performing at large functions and parties. Still sngs in a combo on the jazz circuit and co-writes blues/jazz material. Since joining in 2001, Steph has contributed enormously to the compositions, both with lyrics and music. Loves the challenge of Chalice and looks forward to promoting the endless possibilities with the band i.e. theatrical/large venues etc.
Rob Pearce - keyboards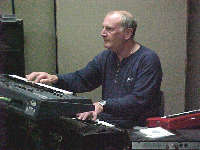 Keyboard player and composer although originally a guitarist then bass player. Transferred to keyboards, partly because of a long term desire, and also, he could not find a keyboard player who wanted to play this type of material. Played keyboards and bass with The Symbols (a sixties and seventies chart band) and The New Vaudeville Jazz Band, but main activity has been composing.
Equipment list:

Korg Triton
2 Roland XP50s fitted with "Keyboards of the 60's & 70's" / "Vintage Keyboards" expansion cards
Roland JP8000 Synthesiser.
EMU Classic Keys.
Yamaha DS55. [as midi controller]
Stagg Acoustic Guitars .
Samson 16:2 mixer.
Behringer DSP1000P effects.
Rick Wills- drums and percussion
Co-founder of Chalice and long time friend of Rob Pearce. Has been playing drums since he was 9 years old,inspired by the instrumental "FootTapper" by the Shadows (and the precise,drumming of Brian Bennett). Developed a liking for modern jazz by the age of thirteen, and influenced by the many great players of the time. Played in numerous bands in and around Essex (anything from strict-tempo to hard rock),with no particular claim to fame, just the enjoyment of playing. Met Rob Pearce during the 70's when the seeds of Chalice were first sown. Admired for his ability to make sense of the various time and dynamic changes in the bands music.
Equipment list:
Customised Hayman 7 piece drum kit.
Sabian and Paiste cymbals.
Gibraltar double bass drum pedal.

Steve Liberty- guitars and vocals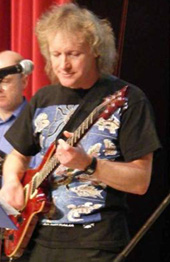 Steve joined Chalice in 2010 and is a very welcome addition to the band. His main infuences are progressive rock bands such as Yes and Genesis, along with other modern progressive bands such as The Flower Kings and Iona. He released "The Moment", his first solo CD, Its style is progressive/experimental rock.
See his website: www.guitaristry.com
Has also played on the following releases by "Time Will Tell": "Pushed For Time", "There Is", "Early Days", and "Visionography".

Equipment list:
Paul Reed Smith Custom guitar
Boss GT3 effects pedal
Peavey amplification
Martin Acoustic Custom X guitar
12 string guitar
Mandolin and Mandola
Russ Strutter- basses guitars and bass pedals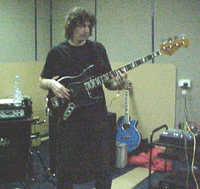 Inspired by the music of the late 60's and earley 70's rock, jazz and blues, when the boundaries of contemporary music were broken, Russ learned his craft playing along to ELP, Genesis and Yes albums! Upon leaving school, joined local band Tonight who charted in 1978 with 'Drummer Man', then shortly after, was asked to team up with the legendary Wilko Johnson, of Dr. Feelgood fame.During this period he also worked with Beverley Martyn, wife of folk icon John Martyn. Now recognised as a top class bassist, many more bands called on his services. These included, Panik, Love Affair, SNAFU and The Brew. Russ had known Rob Pearce for some time, but they had not had much contact due to their own commitments, but a chance meeting at a Re-Genesis gig, resulted in Rob sending Russ a demo tape of the Chalice songs. Although Rob knew Russ was very much in demand, he also knew that he had a fondness for this style of music, so it was worth trying! A few days later, after a lengthy telephone conversation, Russ had joined and rehearsals began.
Check out Russ's solo CD "About Time I & II"
Equipment list:
Rickenbacker 4001 Stereo bass 1973
Fender Jazz bass 1976
Tanglewood 5 string bass
Crafter 6 string acoustic guitar
Roland PK5 midi pedals
Peavey T-Max 500watt amplifier with 4x10 and 1x15 cabs